Hassle-free cooking in the great outdoors with a 4-in-1 full size propane tank powered portable outdoor cooker that can convection bake, BBQ Grill, cook Wok Style and become a Fire Pit for cold nights? At the 2022 Overland Expo West in Flagstaff, AZ we came across the Trail Fire Grill Outdoor Cooker.
We actually got to see the product being used by the Co Founder Mark Ritchie and it was pretty useful. He used it in the pizza format to make fresh hot pizza. In that configuration you will need to pick up a pizza stone of your choosing from say Amazon as long as it is safe to use on a grill.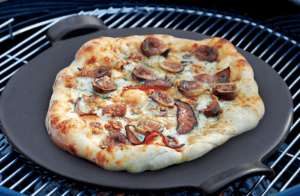 The 4 in 1 Trail Grill is a full size propane tank powered portable outdoor cooker. Works equally well as a BBQ, Wok, Pizza Oven and a Fire Pit. You can bake anything you can imagine by flipping the wok into a lid. The stainless steel grate and Carbon Steel Wok make cooking and BBQ clean up hassle-free.
Ideal for the Beach, Tailgating, Picnicking, Hunting, Camping, Fishing, Boating, Van Life or for everyday use right at home in your backyard. We picked up one at Overland expo and will be using it on our travels. Currently, there is not a carry bag for the unit, that is coming soon and will be available to purchase on the website.
Find Out More About the Trail Grill BBQ, Wok, Fire Pit, Pizza Oven Here
I'm looking forward to using the fire pit feature to roast marshmallows and make s'mores at a campground or at home on the deck. I am also excited about coming up with simple, healthy, delicious recipes that I can make while traveling in the camper van. I really enjoy cooking and one of the challenges I have had living the van life is cooking inside the camper van. I have avoided cooking inside the van simply because I don't want to smell up the van.
I hope that this Outdoor Cooker will allow me to bring my passion for cooking with us on the road as we travel America. We will certainly share all of our cooking experiences with you on the channel.
Check out more of our travel gear supplies here on the website.