This is our first look at the first 2023 Winnebago Travato 59k Class B Motorhome on the new 2023 Ram Pro Master van. Earlier this year, Ram announced upcoming redesigned face and new features to come starting fourth quarter this year for the 2023 ProMaster vans. I, like many of you was very excited about the new facelift. I have long complained about the unattractive look of the Pro Master camper vans. Now, it the updated features are available on the all new Winnebago Travato 59k Camper Van with a Rear Bath and Twin beds floor plan.
We are definitely not going to see the 2023 Pro Master chassis make its way to the #vanlife world until mid next year sometime. But when it does, here's what to expect from the images released by Ram. The ugly old headlights will be replaced with brighter and sleeker ones. A new three-piece front fascia with a modular bumper will add sweeping lines and curves that makes it more modern and less chunky.
The New look is a much prettier face that is well overdue. We actually got a first hand look earlier this year at the Tampa RV Super Show on the Italian styled Wingamm Oasi 450 mini camper van. We interviewed the designer of the Oasi Compact RV during the show and you can watch that interview here.
Step22 purpose built adventure travel gear. These are the Quoll packing cubes
Humble Play hard, stay fresh with natural deodarant and body care products
BruTrek travel ready french presses and drinkware
Unfortunately, the Winnebago Travato 59K does not yet have the new look but it does have all the upgraded interior design. Along with the new front-end design, the 2023 Ram ProMaster comes with a ton of safety-enhancing driving assistance from a 360-degree camera system to adaptive cruise control and lane-keeping assistance. In addition, Parking is made easier with a park-assist feature that helps the driver execute parallel and perpendicular parking maneuvers. Other notable driving assistance features include Traffic Sign Recognition, Drowsiness Detection, Crosswind Assist, and Active Driving Assist according to Ram.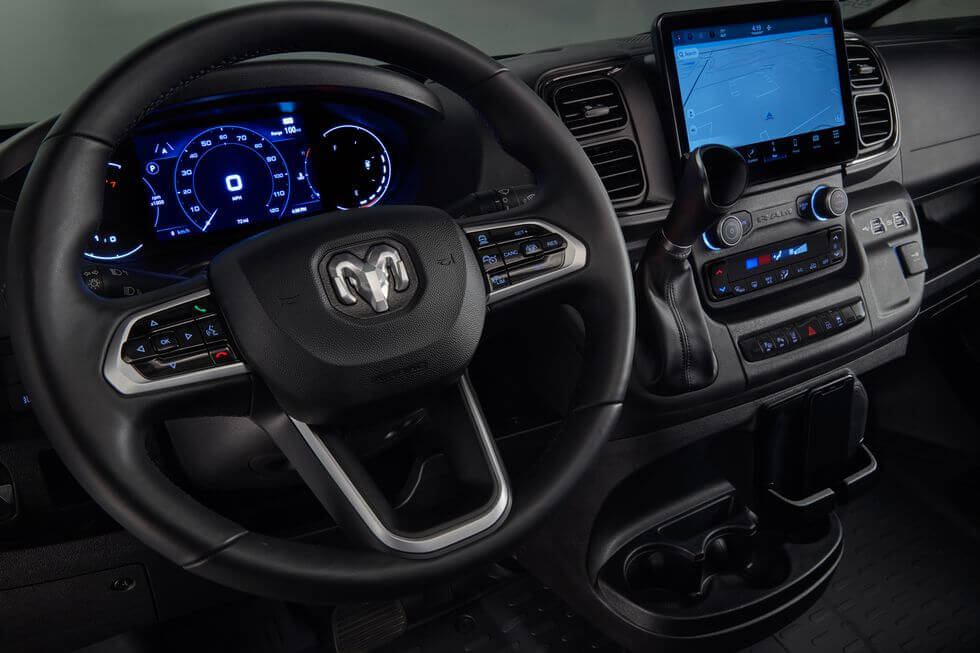 But wait, there is more. There is now a touchscreen Uconnect 5 infotainment system built into the front driver/passenger dash. The new Uconnect 5 system has a wide range of useful features. With out a doubt my favorite feature is the wireless Apple CarPlay and Android Auto smartphone integration. In my opinion every modern vehicle should have this ability built in. I got a chance to do a full detailed walk through of the 2023 Winnebago Travato 59K Class B van at Sunshine State RV's.
The Travato 59K has its own notably cool design touches as expected in a luxury motor home from Winnebago. This Class B is well appointed and ready for any adventure. After a long day of traveling, you can rest up on one of the two twin beds which can be converted into a 74″ x 76″ bed with the flex bed system. The 59K model also has a roomy 25″ x 43″ rear bath with a fold down sink and a wardrobe to store your clothes, towels and supplies.
Winnebago Travato Class B gas motorhome 59K highlights:
Rear Wet Bath
Two Twin Beds
Flex Bed System
24″ HDTV
Cummins Onan Generator
Preparing meals can be done outside camp style or on the two burner cooktop inside. There is even a flip-up countertop extension to make your meal prepping easier. The convection microwave is also a plus for quick meals. There is ample seating and dining spaces. The drivers seat can swivel to use the kitchen flip up counter as a table, and the swivel passenger seat can use the additional pull-out/flip-out table for dining or as an office work station. As I said, this camper van is well thought out and ready for you to grab your bags and hit the road.

By Hank and Lola Strange
This post may contain affiliate links.